What is post-concussion syndrome?
A concussion is a mild traumatic brain injury. It occurs following trauma to the head and causes your brain to move slightly within the skull. Post-concussion syndrome (PCS) is a collection of symptoms which may occur after a concussion. Not everyone who experiences a concussion will experience PCS, in fact most people have a quick recovery. Current research suggests that PCS may be caused by damage to the nerve fibres in the brain.
What are some of the symptoms?
Approximately 20% of people will experience PCS and have symptoms which last longer than 6 weeks. Symptoms experienced may take a while to resolve, but do not worsen as time goes one. Symptoms may include;
headaches
dizziness
memory problems
balance problems
sleep problems
mood changes such as irritability and anxiety.
vertigo and dizziness
decreased balance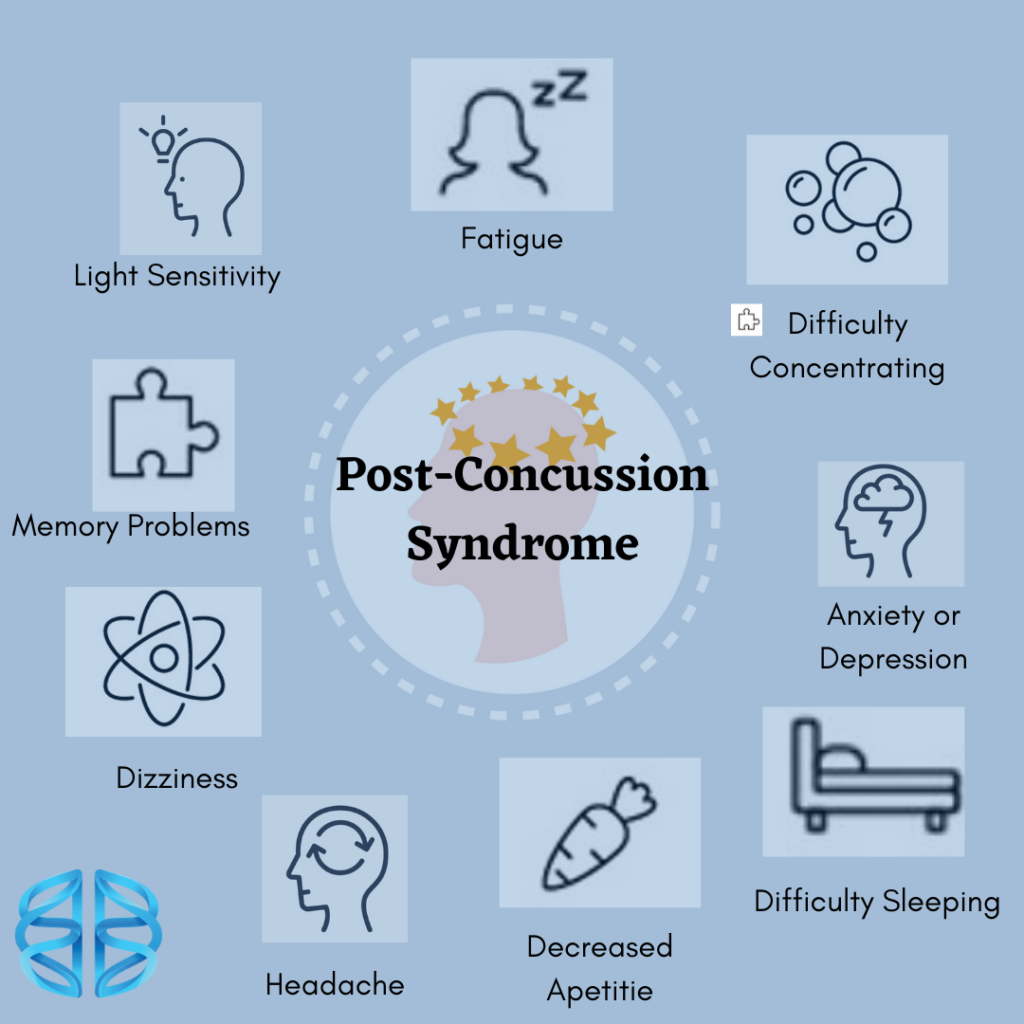 Who is at risk of developing post-concussion syndrome?
Older adults
History of headaches/migraines
Female gender
Previous concussion
How is post-concussive syndrome diagnosed?
There is no definitive test, and diagnosis is based on history of head injury and symptoms. Other tests may be done to rule out other causes e.g stroke.
What treatment or management is there?
Treatment and management may inlcude
Assisting with diagnosis
Education on Post-Concussion Syndrome and understanding symptoms
Strategies to minimise rest
Rest to allow the brain to recover and heal
Guidance on return to work or study
Medical clearance for return to driving
Assessment and treatment of vertigo
Vestibular exercises
Balance Retraining
Gentle exercises
Liaison and referral to other trusted health professionals such as Occupational Therapists
If you believe you are experiencing post-concussion syndrome or have a diagnosis from a medical professional and are still experiencing difficulties, it may be time to seek assistance from a qualified physiotherapist to help aid your recover.
Neve Cavanagh (APAM)
Laurie M. Ryan & Deborah L. Warden (2003) Post concussion syndrome, International Review of Psychiatry, 15:4, 310-316, DOI: 10.1080/09540260310001606692
Donna K. Broshek, Anthony P. De Marco & Jason R. Freeman (2015) A review of post-concussion syndrome and psychological factors associated with concussion, Brain Injury, 29:2, 228-237, DOI: 10.3109/02699052.2014.974674
Willer, B., Leddy, J.J. Management of concussion and post-concussion syndrome. Curr Treat Options Neurol 8, 415–426 (2006). https://doi.org/10.1007/s11940-006-0031-9
Leddy JJ, Sandhu H, Sodhi V, Baker JG, Willer B. Rehabilitation of Concussion and Post-concussion Syndrome. Sports Health. 2012;4(2):147-154. doi:10.1177/1941738111433673